Nelson Granite - A Solid Choice in Vehicular and Pedestrian Barriers
Today, more than ever, there is an increased demand for natural stone alternatives to barricades and barriers. Urban planners, developers, construction companies, landscape designers and architects agree that granite delivers rock-solid quality through its longevity and durability. Equally appealing is the fact that not only is it vandal resistant, but it requires no maintenance.
Unlike cement, granite does not deteriorate during freeze-thaw cycles, so it is a better long-term choice for vehicular barricades and pedestrian barriers. In public spaces, such as parks and schools, granite is particularly suitable as it is highly attractive and pleasing to the eye. Available in five stunning colors, all of our barriers enhance the natural beauty of any outdoor setting. What's more, the color never fades.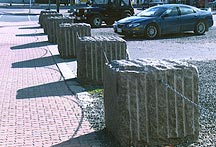 Nelson Granite barriers help direct the flow of pedestrian traffic and circulation to preferred routes as well as help to define landscape areas. The grooved exterior discourages skateboard use along wall surfaces, a common urban nuisance.
For city councilors, planners and developers looking for a way to reduce the use of guardrails, our genuine granite barriers are the perfect option. Weighing approximately 10,000 pounds each, these solid traffic barriers will never need replacing. They resist heat, ice, salt and pollution. In addition, there is no better choice for when you need to keep traffic from entering dangerous or hazardous locations such as pedestrian walkways, work areas and construction sites. Granite vehicle barricades offer substance, protection and security that lasts for generations.
Nelson Granite can create made-to-measure barriers and barricades to meet your specifications. Contact us today to get competitive pricing and information on how we can supply your barrier needs.