Granite Landscape Products
Granite offers classic long-lasting beauty and its durability is unmatched, making granite a perfect choice for exterior landscape products. For both residential and commercial projects, granite has the additional benefit of low maintenance.
Nelson Granite offers a complete line of granite landscape products from curbings to focal points such as millstones and boulders for commercial signage. Whether you are looking for old-world charm or a modern, more contemporary look, our master craftsmen can fulfill your requirements.
Barriers
Weighing approximately 10,000 lbs. each, these Nelson Granite barriers never need replacing. They are a perfect way to reduce the use of guardrails and are vandal-proof and maintenance free. More...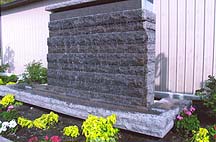 Benches & Tables
Nothing beats granite for beautiful outdoor tables, benches and garden accents. Virtually impervious to hot and cold, our tables and benches are built to last. Nelson Granite presents an array of styles that sit well in private gardens, public parks, golf courses, school campuses and countless other locations. Ideal in public spaces such as parks and recreational areas as well as private gardens, granite tables are immensely popular for outdoor use because of their degree of hardness, durability and resistance to stains, scratching and heat. More...
Cobblestones & Edging
For the discriminating homeowner, business owner, developer and landscape architect no other paving material compares to Nelson Granite's cobblestones and edging. More...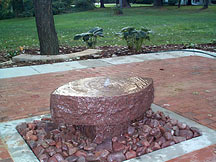 Curbing & Pavers
Granite curbings, or curbstones, are ideal for a wide range of construction projects, including roads, driveways and parking lots. We can custom fabricate to meet your specific needs for curbing for anything 3" and up. Also, Nelson Granite stocks a wide assortment of highly durable, granite paving stones that give any project a charming natural look. Our Nelson Granite pavers come in a variety of standard sizes and thicknesses. More...
Markers & Boulders for Signage
Nelson Granite offers some of the finest address stones and markers, plaque stones, architectural signage and granite boulders for commercial and private signage in North America. More...
Millstones
Get authentic millstones from Nelson Granite. Once common a century ago, today millstones are used mainly as focal points in public parks and private estates. Landscape designers often convert them into fountains or use the millstones as decorative art and courtyard centerpieces. More...
Get a Quote Today
To get more information about any one of our granite landscape products contact Tracy Penner. Tracy will be able to provide you with written estimates and brochures, as well as assist you in choosing from our variety of granites and product styles.