Cobblestones & Edging - Beyond the Ordinary
For the discriminating homeowner, business owner, developer and landscape architect no other paving material compares to Nelson Granite's cobblestones. They are low maintenance and everlasting. Available in five beautiful colors and eight sizes, these cobblestones and edging add an elegant beauty to any number of projects.
The distinctive nature of granite, with its many hues of color, makes it particularly suited to both classical and contemporary designs. Nelson Granite's cobblestones and edging comes from the Canadian Shield, known worldwide for producing the most beautiful, consistent granite in the world. Clients appreciate granite because of the almost endless array of patterns and the depth of color.
And because genuine granite is so versatile, Nelson Granite cobblestone and edging looks charming anywhere: courtyards, pathways, footpaths, patios, steps and walls. The list is almost endless. A rustic charm and feel make it a good choice for poolside patios and pool surrounds as well.
Granite cobblestones and edging last forever, and can be used and reused over and over again in landscaping applications, making them a more environmentally sound selection. Because of granite's incredible toughness, durability and resistance to scratching, granite is also a cost-effective choice.
When you want something that goes beyond the everyday and into the extraordinary, choose Nelson Granite. Our gorgeous granites cannot be surpassed. With our own quarries and a modern manufacturing plant, we can ensure our clients unparalleled quality, price and turnaround time from order to shipping.
To get pricing information, or to see how we can assist you with your project, contact our sales department.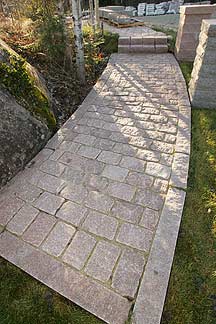 Cobblestone Landscape Design Tips
* Make smaller gardens seem larger! Divide sections using granite cobblestones and smaller spaces suddenly seem larger. Each subsection should have its own look and function. This creates interest and draws the eye through the garden.
* To add value and beauty to any outdoor space, incorporate granite cobblestones and edging. They instantly create an air of quiet sophistication and luxury. Reports say that a nicely landscaped space can increase property values by approximately 15 percent.
* Looking to create some patio pizzazz? Try using a circular design pattern, or a basket weave design pattern using granite cobblestones. Use a variety of granite colors to add visual appeal and to help designate different areas of your courtyard or patio.
* Speaking of patios, have two: one traditional patio near the house and the other in the center of the garden. Surround the center patio with climbing plants and taller shrubbery and flowers to create the illusion of a secret garden oasis. Use granite cobblestones or paving stones to form a charming walkway between to two spaces.
* On high-traffic areas use only genuine granite. Nothing lasts like granite. While concrete is often designed to mimic authentic granite, it doesn't last the way granite cobblestones and pavers do. Especially for driveways, granite is the best option as the word "granite" is practically synonymous with longevity. And they will never deteriorate due to freeze/thaw cycles.