G623-Rose Beta Granite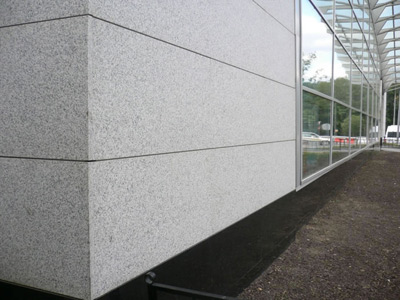 G623 Granite
,  Light grey granite, from China . It is also named China Rosa Beta Granite. A medium-grained, grey-pink granite. G623  granite is widely used in interior and exterior for flooring, paving, facading, tombstone , monuments , fountain and other landscape for garden, kitchen countertops, vanity tops ,worktops for its affordable cost and color consistency. G623 granite  is available for various finish types  catering to different applications,these include polished, honed, flamed, bush hammered, sandblast, tumbled, natural split etc.
Newstar
is a professional factory for G623 granite products . We specialize in various granite products for construction and decoration using.
G623 Tiles and Slab:
(1)Tiles Dimensions:
a) 305 x 305mm or 12 x 12"
b) 400 x 400mm or 16 x 16"
c) 457 x 457mm or 18 x 18"
d) 600 x 600mm or 24 x 24"
e) Thickness: 10mm (3/8"), 12mm (1/2"), and 20mm (3/4") f) Cut-to-size or any other customized sizes Inner
2) Slab size:2400upx1200upx20mm 2400upx1200upx30mm
| | | |
| --- | --- | --- |
| | | |
| G623 Flamed Tiles | G623 Floor Tiles | G623 Floor and Wall Tile |
| | | |
| --- | --- | --- |
| | | |
| G623 Tile | G623 Wall Tile | G623 Slab |
G623 Step & Stair
(1).Size:
110*33*3cm 15*110*2cm
120*33*3cm 15*120*2cm
125*33*3cm 15*125*2cm
130*33*3cm 15*130*2cm
140*33*3cm 15*140*2cm
110*33*2cm 15*110*2cm
120*33*2cm 15*120*2cm
125*33*2cm 15*125*2cm
130*33*2cm 15*130*2cm
140*33*2cm 15*140*2cm
(2)Surface finishes:
flamed, polished and pineapple
(3)
Size and Surface according to customer's requirements
| | | |
| --- | --- | --- |
| | | |
| G623 Step & Stair | G623 Step & Stair | G623 Step & Stair |
Other G623 Products:
G623 also widely used in Construction such as step,stair,,wall cladding ,paver,cobblestone,kerbstone,baluster,etc
| | | |
| --- | --- | --- |
| | | |
| G623 Cobblestone | G623 Mushroom Paver | G623 Kerbstone |
| | | |
| --- | --- | --- |
| | | |
| G623 Construction Stone | G623 Tombstone | G623 Tombstone |