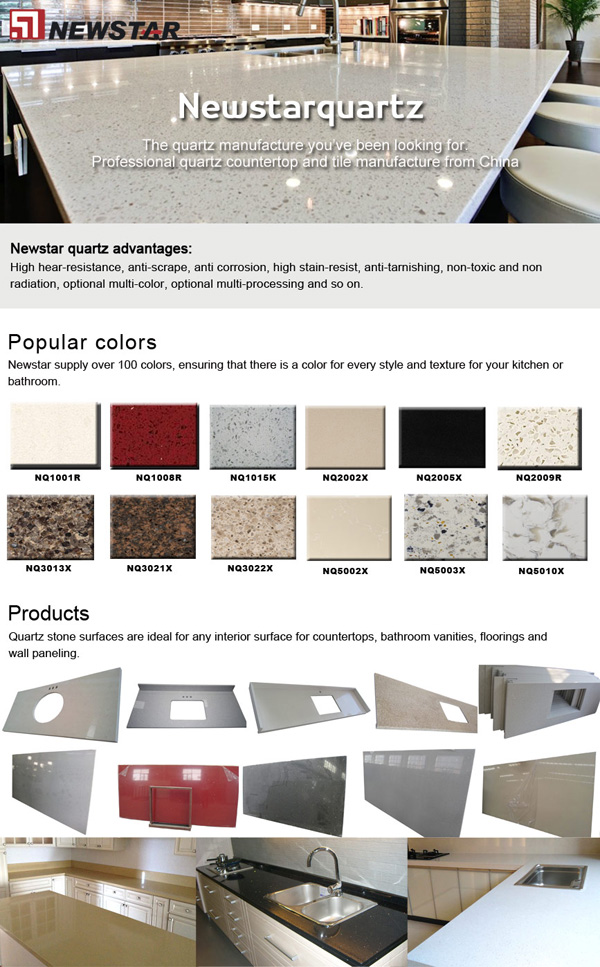 Hardness and wear resistance of quartz countertop is superior to the ambry of man-made stone , which is better in heat resistance, but it is absolutely not so serious. Whether it is man-made or quartz, you can't put the hot pot directly on the table, the heat bilges cold shrink can cause the local changes in molecular structure. Both quartz and artificial stone, if you don't use the pot mat, and directly put the high temperature object on the countertop for a long-term, surface contact with high temperature object will have difference with other mesa bright part.
Advantages: quartz is a kind of new type of stone by more than 90% of the trace elements and other synthetic quartz crystal and resin. Its main material is quartz, it is another kind of economical and durable type material after the man-made stone countertop
Disadvantages: it is single in modeling, it can't do the complex modeling, which is not easy to repair after entering problems and knock against. Since the high hardness and density of quartz, so it is impossible for the seamless splicing, it is not easy to do the complex shape. Compare with the artificial stone, the price is slightly high.
Maintenance: the pot which just finished, heat bilges cold shrink can cause material internal molecular changes, in the long run, it will lead to the local yellow lose luster or cracks. It is best to place a small pot mat on the table or shelf, direct contact with a pot of mesa to prevent overheating. Before placing the hot pot, cool for a few minutes. At ordinary times note wax regularly, it can effectively extend the life of the mesa and appearance.
Cleaning: the liquid substance which is used in daily life does not penetrate inside it, for a long time just under the surface of the liquid with water or clean and bright, cleaner should be erased by rag. If necessary, you could use the blade to scrape the retentate.