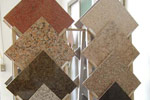 Granite is very hard, the surface is with coarse particles, mainly composed of quartz, orthoclase, and common mica.
Granite is beautiful, durable, very hard.
As granite often contain other minerals such as hornblende and mica, and present a variety of colors including: brown, green, red, common color ect. Because of its slow crystallization process, and
its crystal cube as intertwined as one, so it is very hard. It is the same house as durable, can not afford to debris, not scratched, not afraid of high temperatures. Regardless of color or light, as long
as there are some common sense conservation, will not fade or darken. It's almost free from pollution, high gloss after polishing surface, it cannot bring impurities adhesion that various weather caused.
The price of granite is affordable. Today, the price of granite is more competitive than artificial stone, and it is more durable than anything else.
Moreover, the granite does not pollute the environment.
In addition, granite is very practical, can be made into a variety of surfaces - polished, honed, flamed, water jet ,and sandblasted ect
The grantie is widely used,it can be used for brick, veneer, flooring, countertop, kitchen floor, bathroom floor, laboratory bench ,they are all available. It is no longer just used for monument.